---
---
Reve D HG Front conversion set for Bell Crank YD-2!
The newly developed upper arm mount for bell cranks can be mounted on both aluminum bulkheads and plastic bulkheads.
The aluminum upper arms are a lightweight design and shape which has 2pcs ball bearings for the suspension pin intended to awesome rigidity and smoothness.
The upper suspension pin is an eccentric design which is a cantilever type with Φ4mm shafts and will deliver the both high rigidity and ease on maintenance!
Mounting of the upper arm is fixed by aluminum thin nylon nut, the spacer clearance can be adjusted easily, and the upper arm that operates smoothly without play can be easily assembled.
By making the upper suspension pin a cantilever type, succeed the downsizing of the shock tower, and combined with the effect of the lightweight dry carbon material, it contributed greatly to the weight reduction of the front.
Please try and feel the excellence of the new function and nice looking on HG Front Conversion set.
■Contents
・Aluminum upper arm (Built-in ball bearing, 1pc each for left and right)
・Aluminum upper arm mount Bell Crank Ver (1pc)
・lightweight carbon Front shock tower (1 pc)
・High rigidity upper arm pins (2pcs)
・Lightweight POM spacers (0.5mm thickness x 4 pcs, 1.0mm thickness x 4 pcs, 2.0mm thickness x 2 pcs)
・Aluminum thin M3 nylon nut (2 pcs)
・M2 × 5mm cap screws (2pcs)
・M3 × 8mm button head screws (6 pcs)
・Assembly instructions (1 sheet)
■Caution
・This product is intended for YD-2 with Bell Crank configuration. Please note that it cannot be configured with the Slide Rack type.
・For the turnbuckle on the upper arm, please chose Yokomo / Lunsford titanium turnbuckles for a snug fit.
・A 4mm type turnbuckle wrench is required to assemble the upper arm pin.
■Assembly Instructions
※Click the image to open an enlarged version.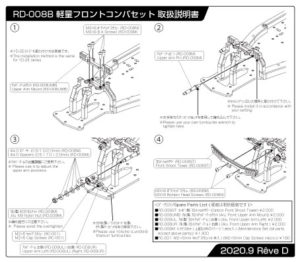 ---