---
---
REVE D ASL FRONT AXLE SET (RD-005)
This is ASL (Aluminum Super Light) Front Axle set!
The integrated design with the wheel hub minimizes backlash / play and perfectly centralized through our precision engineering process. These key points improve rotational efficiency and significantly improves the "front rolling speed" essential for RWD drift.
Specially processed 2.0mm and 4.0mm wheel spacers are also included, so if you use them together with your general-purpose spacers, you can easily and freely adjust the wheel offset amount (In use of Axle only, the wheel offset will be 4.0mm.)
This product works with both the Rêve D front knuckle (RD-001ASL) and YD-2 series knuckle.
Please try the ASL front axle, which produces the best performance in the RWD drift scene.
<Instruction document>
Click the picture for opening the instruction document in PDF format.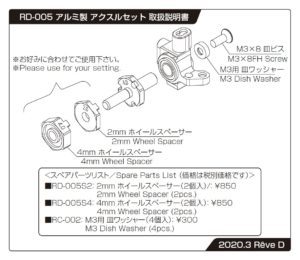 ---